SoulBeing Member & Industry Events
2022 Full Moon Swim Series – December
December 7, 2022 @ 6:45 pm

-

7:30 pm
Monthly Full Moon Celebration + Ocean Dip in South Portland, ME
Welcome to the Two Maine Mermaids Full Moon Swim Series!
Every month we go for a dip on the full moon. Come rain or snow, high tide, low tide, warm days, weekdays or weekends, we gather as a community to bear witness to self, others, and the cyclical rhythms of the earth and her seasons. These dips are a way to meet and celebrate ourselves just as we are in the moment- powerful, wonderful, and wild! They connect us to our bodies, attune us to nature, bring us into community, and spread a whole lotta joy in the process! Come join us for a swim, meet a community of like-minded folk, and laugh a ton. We can't wait to see you there!
Wednesday, December 7th
Willard Beach, South Portland, Maine
Gather at 6:45pm
Ocean Dip at 7:00pm
In the event that we need to cancel due to dangerous weather we will use Instagram to notify attendees so please consider following us @twomainemermaids! If there is rain in the forecast we will still be out there (meet under the overhang of the lifeguard shack/bathhouse near the playground at Willard Beach)!
Two Maine Mermaids will continue to host a range of events that create community, spread joy, and encourage connection with nature. Be sure to sign-up for our e-newsletter, follow us on Eventbrite, or follow us on Instagram to stay up to date!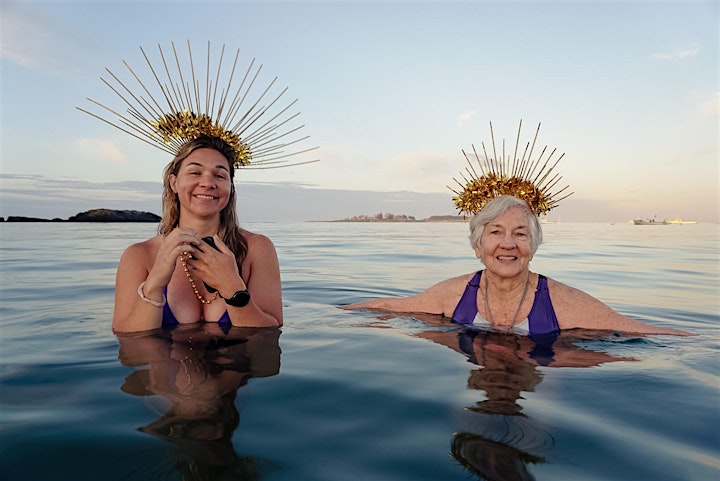 P.S. Handmade goddess crowns like the ones pictured above are available to add on at checkout!
Photo credit: Carin Teresa Photography