SoulBeing Member & Industry Events
Organic Cultivators Super Natural Conference – We Grow Everything
February 17 @ 9:00 am

-

February 19 @ 6:00 pm
This is the second annual Super Natural conference at the Sturbridge Host Hotel in MA. There will be 3 days and an optional workshop day.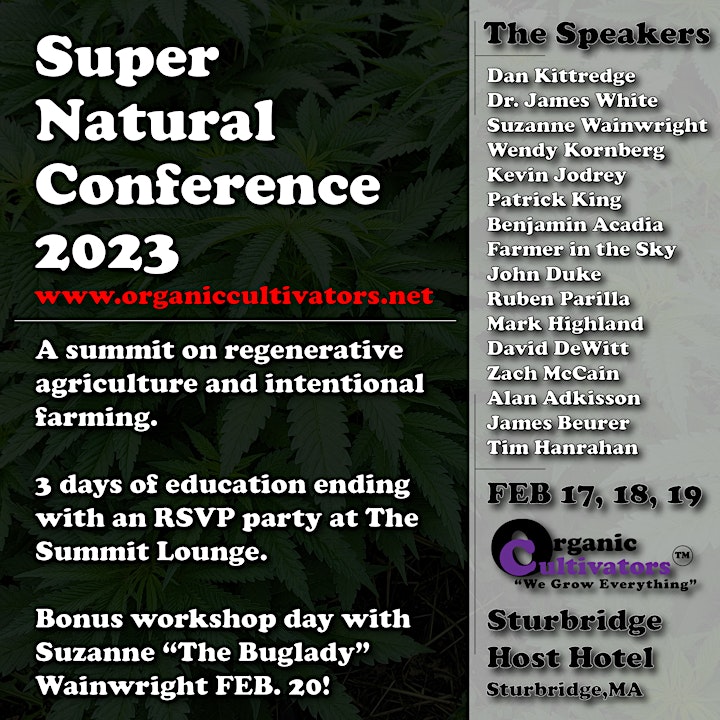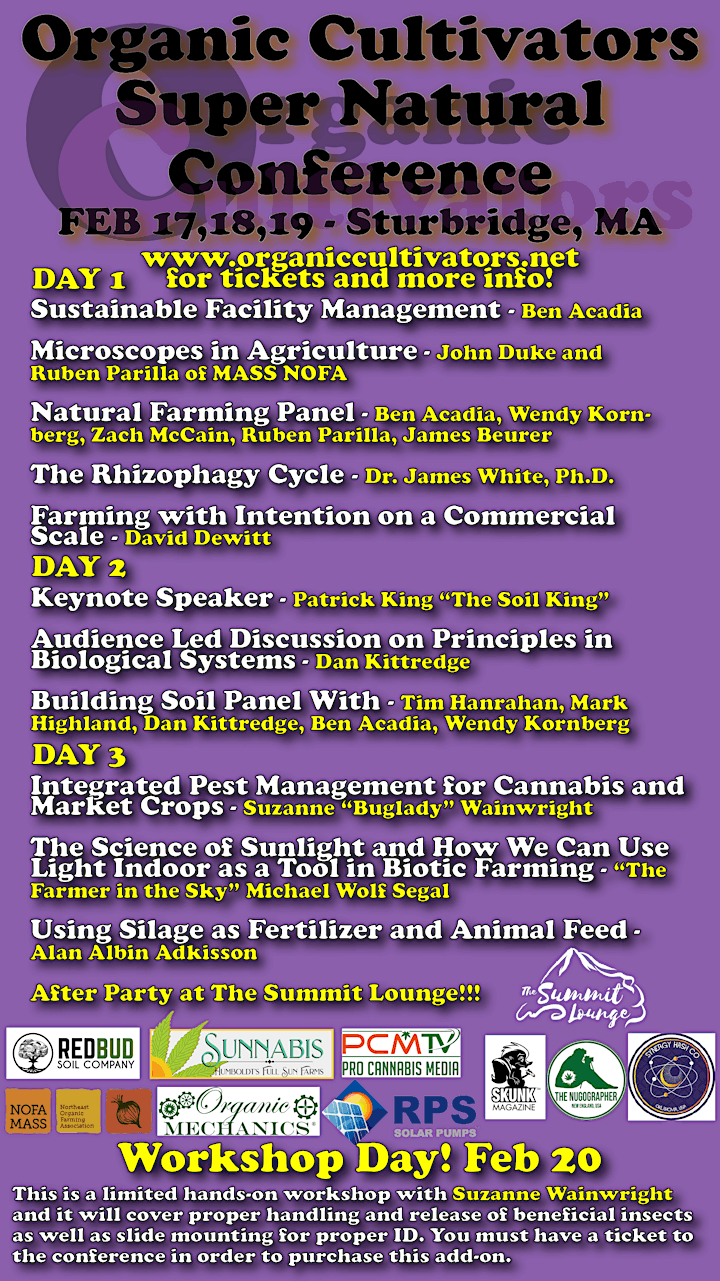 Good farmers will tell you they never stop learning. With science providing new insights into the soil food web smart farmers are adding new tools to their "toolbox" and gaining a better idea of how to manage their land by using nature and the biology that makes the natural system work so beautifully. Join us in Sturbridge, MA February 17-19 for 3 days that focus on education for growers of every skill level with talks from experts as we dive deep into subjects you thought you understood and explore the newest discoveries in soil science and how they are being applied effectively at all scales.
Covering everything from large scale production farming to small homegrown methods this will include outdoor, greenhouse, light dep, and indoor growing styles for all crops. Our conference will include keynote speakers with presentations on many topics. Featuring Dan Kittredge, Dr. James White, Suzanne Wainwright, Wendy Kornberg, James Beurer, Tim Hanrahan, The Farmer in the Sky, Ben Dillon, and more!
Dan Kittredge will be expanding on his first talk and engaging with the audience much more! He is the ED of the Bionutrient Food Association and he blew the audience away last year with a talk that went deep into soil science, chemistry, biology, physics, and love.
Suzanne Wainwright joining us again with more time and will be offering a workshop day on the 20 of Feb for an additional cost. Once you have purchased a ticket to the conference you will be sent a link with the option to join the workshop. Space will be limited so you don't want to wait on this! Suzanne always changes it up for talks and she is always a highlight of conferences and expos. You do not want to miss her talk.
This year Dr. James White will be joining us to talk about the rhizophagy cycle and how plants farm microbes. His team is at the forefront of this type of research and we can't wait to pick his brain and see what new discoveries they have unearthed and what that means for our understanding of soil biology and the functions of plants and their symbiotic role with biology.
The Farmer in the Sky, Michael Wolf Segal, will be speaking about light. He has consistently been ahead of the curve on lighting and has helped develop different growing techniques that have shaped the cannabis growing community as a whole. His understanding of light, and how it effects cannabis is unparalleled in the industry.
We have some panels planned with all of our guests and we are working on adding more people to the roster so check back often!
https://www.organiccultivators.net