SoulBeing Member & Industry Events
Wild Herb Walk and Crafting Workshop
November 6, 2021 @ 12:00 pm

-

4:00 pm

$70
Build a deeper connection to the wild weeds beneath your feet! Join in on this opportunity to wild craft with the plants of every season.
About this event
Do you have an inkling of desire to learn more about herbalism and the wild world of medicinal plants? Then this workshop is for you! Each workshop brings upon a little something different from wild crafting with herbs to learning how to curate your own at-home apothecary. We will hold a focus on the season and the herbal practices which support it.
Expect to gain knowledge of the wild weeds and beneficial plants in New England while learning how to preserve them for boosting wellbeing. Find out what part of the plant to harvest during the season as well as the ethical forms of harvesting. We will be taking a walk around the land, followed by instruction of where these plants are most likely to be found. Participants will then be able to harvest many of these plants to take home for their own use as well as for the wild crafting portion of the workshop!
Take-Aways
A walk around the land, in-depth descriptions of each plants energetics and actions in the body with knowledge of Western, Ayurvedic, and Chinese herbal traditions.
Instruction of when and where you can find these plants in the wild, also how you can cultivate these plants at home.
Proper harvest techniques
Experience processing the herbs and a take-home of your own botanical remedy!
You will also take home…
Detailed instructions for how to use the botanical remedy we processed.
A pamphlet describing the plants we discovered and their benefits.
Literature describing a plants constituents and actions that make it beneficial for wellbeing.
What students should bring:
Kitchen knife and cutting board
Harvesting basket/ carrier for your harvested plant material
A mason jar for the wild crafting portion of the course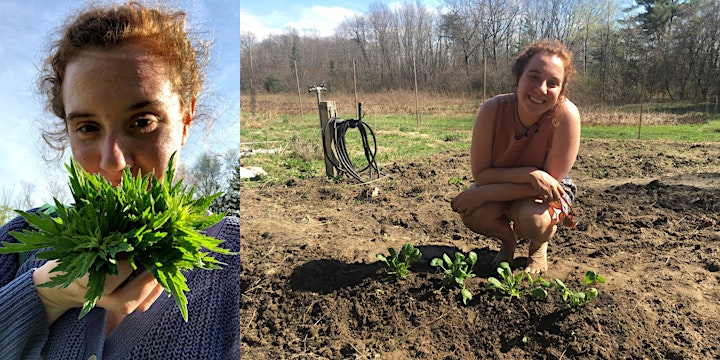 Instructor: Grace Krupkowski
Grace has been practicing herbalism for six years. She innately connects with any landscape and its local wild plants. She is committed to learning and teaching about the mind, body, and soul connection to nature. Grace works across many different herbal modalities. She has knowledge of Western, Ayurvedic, and Chinese herbal traditions.
In 2016 Grace moved to the Pacific Northwest. There, her curiosity for plants was born. She foraged and made her first batch of herbal remedies during her time in Olympia, Washington which then uprooted a desire to make herbalism a large part of her lifestyle and career. This sparked her passion for building awareness of the wild medicine beneath our feet, which is the intention she shares with all those she teaches.
In 2018, she interned for six months with herbalist Kenzie Khaliq of Wild Faith Wellness. This solidified her direction in becoming a full time herbalist and created a framework for her movement into entrepreneurship.
In 2019 she enrolled at the California School of Herbal Studies where she studied seasonal herbalism.
In 2020 Grace returned to Massachusetts and started her business. At "Land of Milk and Honey Herbalism" she focuses on curating small batch herbal remedies, educational zines, and facilitating local workshops and courses.
She is currently continuing her education at the Boston School of Herbal Studies, where she is enrolled in second level apprenticeship courses.
Grace is an avid gardener and passionate about enhancing her horticultural knowledge. She aspires to build an herbal homestead for growing her business through teaching and building her herbal wellness product line.