SoulBeing Member & Industry Events
Nomad Center July Women's Retreat
July 8, 2022

-

July 10, 2022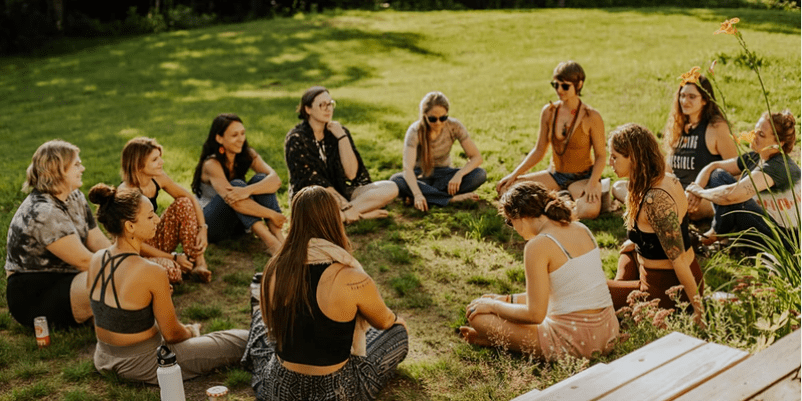 Hope to meet you in circle sisters<3
This is the preliminary retreat info based off of last years schedule, as usual we will go with the feminine flow and play with what works best. Heres a brief overview of what we might tap into:
General Info:
At this retreat you will enjoy:
-Solo time in beautiful nature settings
-Yoga, Meditation, Breathwork
-A community of powerful females
-Unique Reiki Attunements
-Transformational Ceremonies
-Nourishing meals
-The opportunity to witness yourself through photography
-Private, peaceful setting
Facilitators:
Lynsey Tamposi 500hrRYT/YACEP, owner of Nomad Retreat Center and founder of Maine Ganja Yoga, Retreat Chef
Adrianna Devine ​:Reiki Master Teacher, RYT-200, Metaphysical Guide, Conscious Cannabis Cultivator
She combines healing methods and divination tools such as yoga, Reiki, tapping, guided mediation, cannabis, sound, tarot and oracle cards, affirmations, journaling, dowsing, aromatherapy, and more to enrich her practice and share these tools with others on their journey through Devine Healing.
https://www.healingdevine.com/
This schedule is very intuitive and subject to change to what best fits the energy of the weekend. No matter what this is going to be an amazing opportunity to connect as sisters and I am delighted to be sharing this space.
The format for this weekend has changed since I initially planned the retreat to be more reflective of the beautiful way that the monthly women's circles are facilitated.
Meals will be a collaborative effort. Let's nurture each other with our favorite feel good foods. Bring something to share, and if cooking isn't your thing, no worries. We will also have plenty to eat fresh from the gardens, and donations such as eggs, rice, fruit are gratefully appreciated.
There is no additional cost for camping accommodations, there is limited beds available in the Nomad House at $30 per night. (see add on ticket)
The schedule is loose/intuitive but this is what it looks like so far:
Friday -Arrivals as early as 11am, set up tents, settle into the space
-lite lunch will be served
-Chocolate Making or free time
-Opening Circle/Reiki Attunement
-Dinner
-Energy balance
Saturday
Sunrise Meditation and Pranayama
Forage for wild tea
Medicine Journeying Tea Convo
Morning Yoga
Waterfall adventure or free time
Lunch
Afternoon reiki Attunement
Ice Baths or free time
Golden Hour/Sunset Goddess Photoshoot (just an idea lol)
Ceremony Preparation
Dinner
Sisterhood Ceremony
Celebrate sacred sisterhood into the night
Sunday
Silent Forest Bathing for early risers/ extra beauty rest/ slow morning
Restorative/Partner Yoga
brunch
Final reiki Attunement
Closing gratitude circle
Sisterhood time, bodywork sessions, smorgeshxborg of leftover retreat snacks!